Wire Forming in Michigan
CNC Wire Forming is one of our core competencies. We have multiple CNC wire forming machines, and are able to bend solid wire up to 5/8″ diameter to rigid quality standards. We have coil feed and magazine feed machines.
The magazine feed machines allow us to CNC form parts after the parts have been headed, coined, or some other end forming has been done to the part. They also allow us very flexible prototype capabilities, due to their interchangeable tooling and software simulations.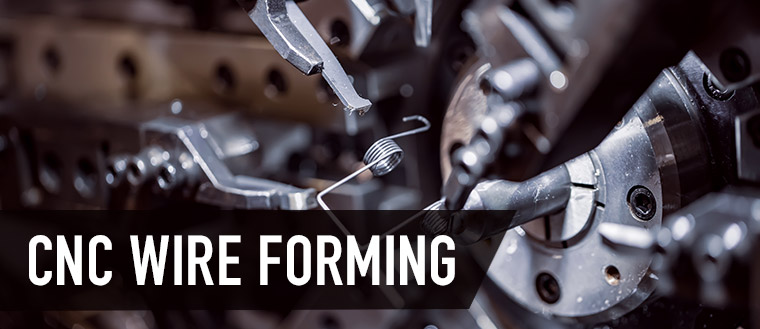 These features help our engineers quickly program the machine to ensure that we supply parts with the shortest lead time feasible.
The magazine feed machines are capable of bending tubing upwards of 1.5″ OD around custom designed mandrels, which are designed and manufactured in house with our full-service CNC tool room.
The possibilities are endless with this type of bending equipment and we look forward to showing you what they can do.
Gallery of Wire Forming Projects
What is a Wire Forming?
When someone uses the term wire form, they are not talking about electrical solid core or braided copper wire.  A wire form is an industry term for a solid metal rod with bends along its length that can be used in many different automotive, agricultural, alternative energy, furniture, and other applications. Clark Engineering has over 50 customers across these industries.
Although wire forms do not typically lend themselves to tight tolerance applications due to the nature of variation in the tensile strength from one heat (batch) of steel to the next, slight variations in material coating or cross section, spring back, and many other sources.
We have successfully been able to locate and create machined features on the wire form itself that hold much tighter tolerance. 
Every application is different and would encourage you to call: (989)723-7930 or email: sales@clarkengineering.net with questions on your application.
Wire Form Applications
Wire forms can combine many different functions into one part.  If you are trying to cut components and cost out of your design, then you need to consider a wire form to replace multiple components.  Although we do not design components for our customers, we are a great resource to let your team know what a wire form can do and what is pushing the limits of capability verses total cost of a part. 
We can, however, contribute to part design in a technical review scenario with OEM's cooperating to generate the optimal solution. From low –> high volume parts, the tooling to produce a wire form is much cheaper than a progressive stamping die.

Save yourself and your customer significant dollars and consider designing one into your system today. Depending on the part and the volume Clark Engineering considers the most efficient and reliable way to process the part. 

We design and build all tooling in house using our experienced engineering team, machinists, and state of the art machinery.
What types of materials and profiles are best for your design?
The cross section of the rod or wire can be round (typical) or it can have a custom profile. Clark Engineering currently produces parts with solid round, tube, square, or a hexagon profile and can quote other custom profiles. 
If you have a relatively simple application and are looking to keep initial cost low due to the overall timing, volume, or budget then a solid round profile with a mild steel chemistry is going to the most economical and available option. 
We typically have mild steel in stock at all times in diameters that range from 0.125" to 0.500" and are able to quote test samples for your project and deliver in as quickly as a few days in some cases. Typical tolerance on custom drawn wire can be held to +/-0.002" without difficulty.
Talk to an Expert
Fill out the form below and our account management staff will reach out to you shortly.