Expert Metal Fabrication Services for Your Unique Requirements
Clark Engineering has been a leader in metal fabrication services for nearly 60 years. We work with companies across a variety of industries to produce high-quality custom metal products and to keep your development cycle on track.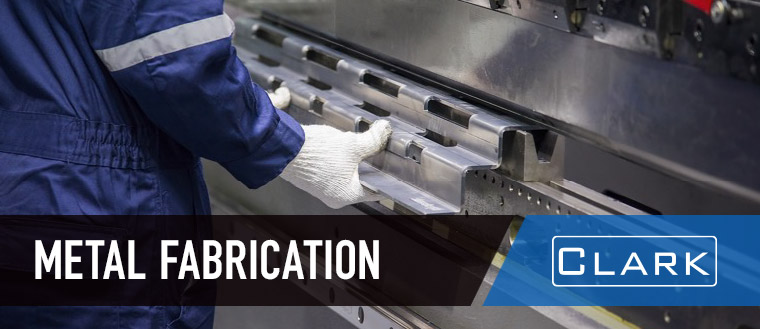 The Advantages of Custom Metal Fabrication
Many products rely on ready off-the-shelf components. However, when creating a custom fabricated product, developing custom parts and components provides many distinct advantages:
Produced with top-of-the-line equipment
Utilizes highest quality materials and alloys
Produced by detail-oriented, skilled engineers
Working with a custom fabrication shop ensures that your parts are made specifically for your application. We have facilities with the latest machining and fabricating equipment. Welders, millers, and CNC machines are just a few examples.
Along with the latest equipment, you receive the best materials. If you are unsure of the best metal or alloy to use for your project, our team has the experience needed to help with your selection. We understand the differences between alloys and how they are impacted by various environments and applications.
We understand the need to keep your production line moving. Contact us for customized fabricated parts with a shorter turnaround compared to smaller operations.
Forming Metal
We have the capability of forming metal in several ways.
Stamping
Stamping is when a metal sheet is hit with a die at high pressure to create a specific shape.  Punching is a form of stamping that uses a press to force a die into the metal. This can create a hole, multiple holes, embossing, or other shapes in the metal. This can be performed on sheet metal and rolled materials.
Hot extrusion
Hot extrusion is the process of forcing metal through a die to create a cross-sectional profile. This extrusion process is done at high temperatures.  This keeps the materials from work hardening and makes it easier to push the material through the die.
Welding
Welding is when two pieces of metal are joined together using fusion. Different types of welding include oxyacetylene, tungsten inert gas, shield metal arc, and gas metal arc welding. Welding is done at a high temperature and uses a filler metal material. Welding can involve a chemical flame, electricity, pressure, or lasers to achieve the heater needed to join the metals.
Folding or Bending
Folding or bending involves force being applied to the metal material to alter its shape. The metal is bent manually by hammer or hydraulically with press brakes.
Laser cutting
Laser cutting uses programmable laser cutters to cut most metals, however, the thickness of the metal that can be cut is limited. Depending on the Metal chosen the thickness varies from ¼" to 1". This process can also be expensive due to the amount of electricity needed.
Water-jetting
Water-jetting is an alternative to laser cutting. It uses a thin jet of water being shot out at nearly 90,000 PSI.  Water-jetting is more effective at cutting thick metals than lasers.
Metal Spinning or Spin Forming
Metal spinning or spin forming is a process that shapes metal through spinning. This process starts with a sheet of metal in disc form or a tube of metal. The material is then shaped by a CNC lathe rotating at high speed. High pressure is exerted on the material to form it into a specific shape.
Casting
Casting is another popular process used for metal fabrication. Metal casting involves filling a hollowed mold of the desired shape with a molten metal material that then solidifies.  There are a number of different methods for casting including sand casting, investment casting and die casting to name a few.
Finishing
Finishing is the final step in the metal fabrication process. Once a metal piece has been completed, it can then be sandblasted, painted, powder-coated or anodized.
Work with an Experienced Michigan Metal Fabrication Company
We are a U.S.-based fabrication shop with a global reach. Clark Engineering is headquartered in Owosso, Michigan. Established in 1946, we have a long track record of providing customers with reliable fabrication solutions.
We only use the best metal fabrication tools, equipment, and materials. Our facilities are equipped with the latest machines to stamp, fold, or weld any part.
We have worked with customers in a wide range of industries:
Our capabilities also cover all types of applications and manufacturing needs. You can rely on us for short-run or high-volume fabrication and manufacturing. We also provide world-class precision products and quality assurance. Whether you need parts created for aerospace and defense applications, metal parts fabrication for heavy trucks, metal fabrication for medical equipment or anything else, we'll be able to provide you with high-quality, reliable service.
With global connections, resources, and high-quality facilities, we are your source for reliable parts. Our machine shops are equipped to bend, cut, form, weld, and finish the highest quality metal products.
Do not cut corners when it comes to your project. Partner with a team that works with you to develop precision custom metal products. Contact us today to discuss your project.
Talk to an Expert
Fill out the form below and our account management staff will reach out to you shortly.